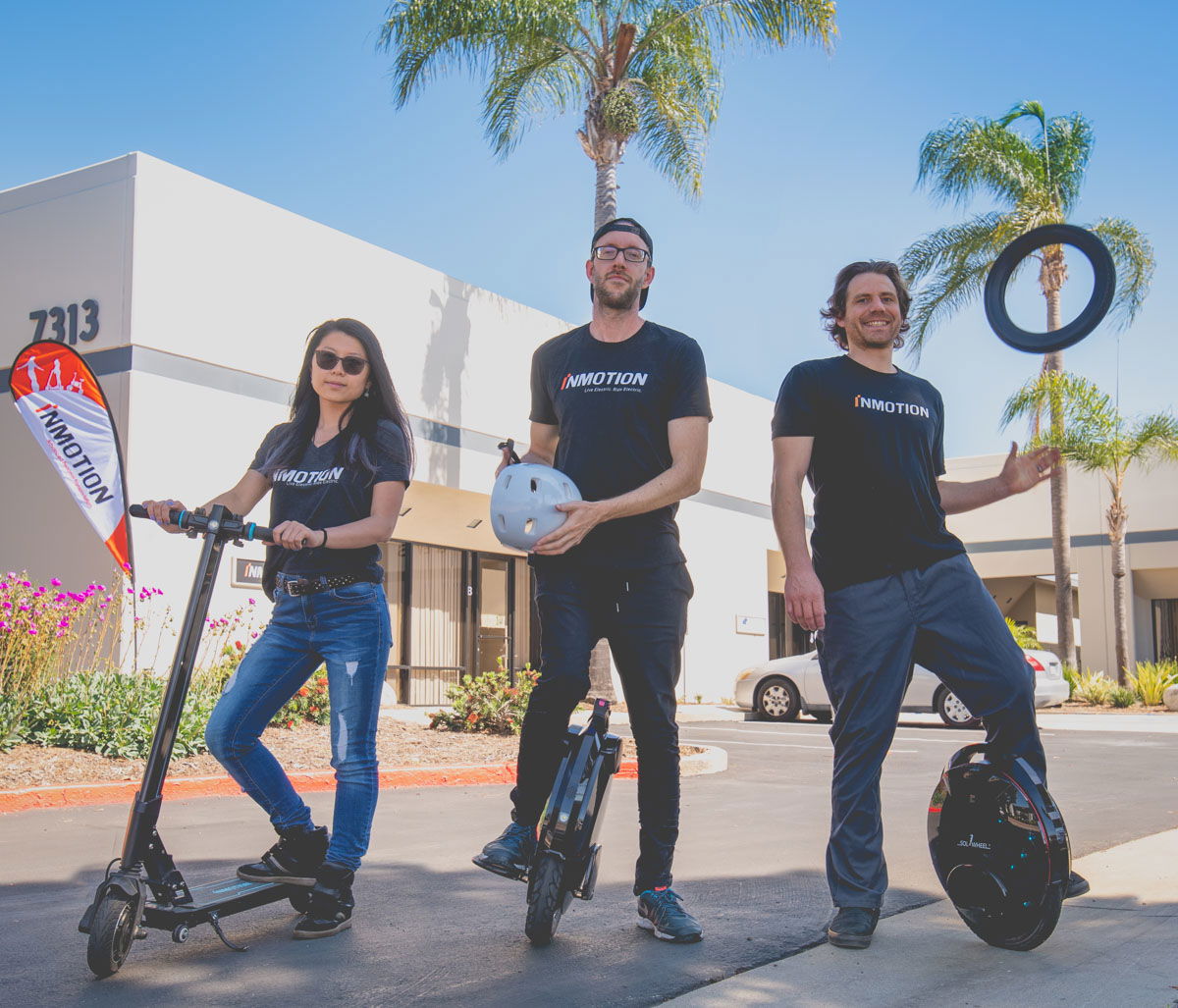 InMotion USA, San Diego, CA

We are a diverse, international team who is truly passionate about electric micromobility; we've poured our hearts, souls, resources (and a lot of coffee for those late nights) into our vision. Our engineering team has designed and produced electric rideables for nearly a decade, and this is only the beginning. Our goal is not only to promote our amazing little vehicles, but to also provide the service and support our customers deserve.
We've seen firsthand how our products can completely change the way people get around town. It's our mission to help share these experiences with communities across the US, as it has the power to truly change lives and support a future less dependent on fossil fuels.
Founded in 2017, our team's first project was the Kickstarter launch of
Scooterboard
. We quickly expanded to further introduce more of our popular cutting edge products, like the
V5
&
V8
electric unicycles in cooperation with the Solowheel brand. Now we offer something for everyone with the addition of our
L8F
electric scooter, and
P Series mini e-bikes
. And more recently, our team played a key role in the worldwide launch of the most advanced electric unicycle yet,
V10
, and a whole new category:
Hovershoes X1
.


So what's next? Our wheels are always spinning. Our innovations will continue to focus on better and more efficient / powerful ways to move you. And most importantly... it must be fun!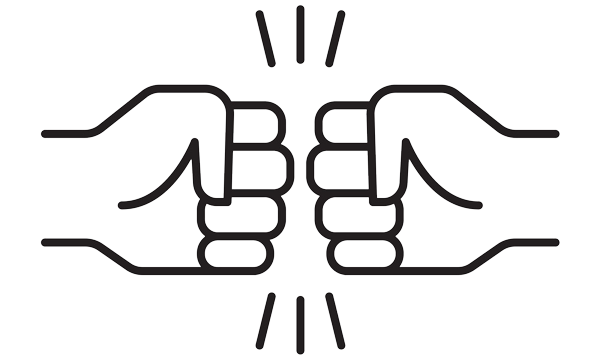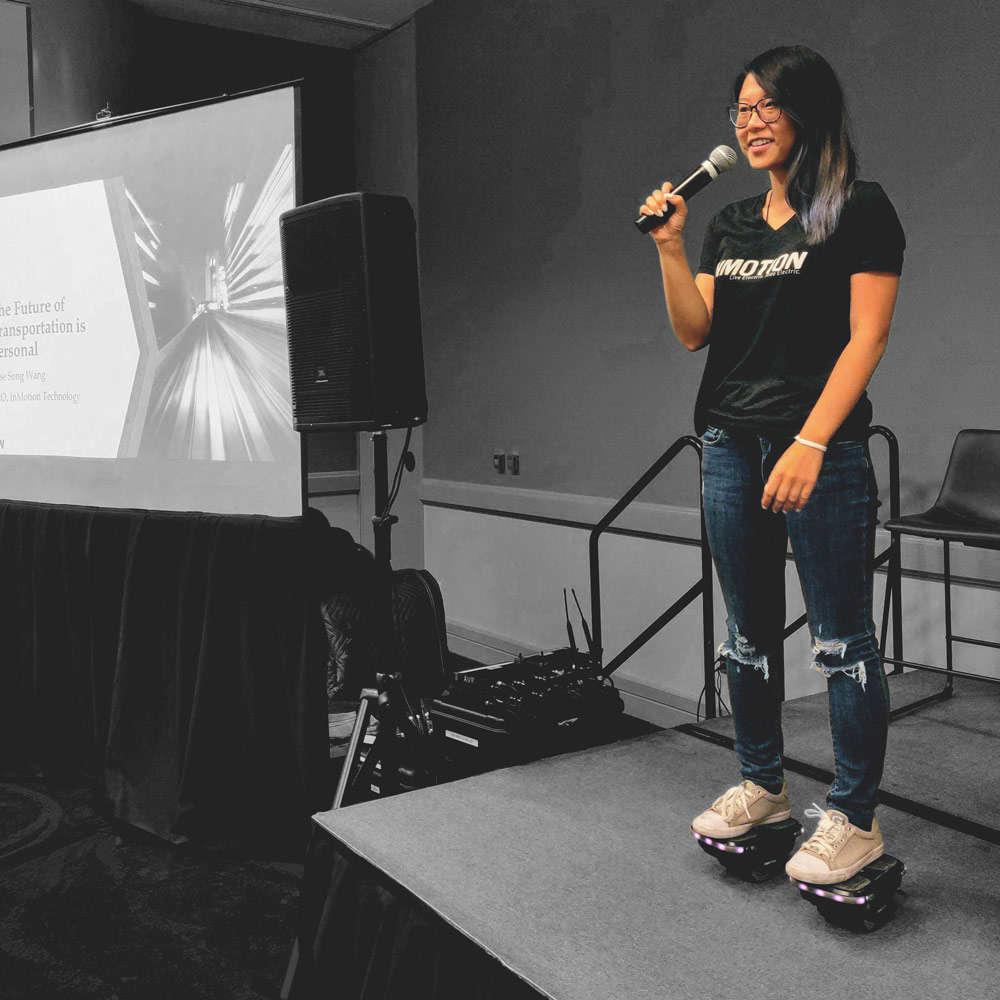 CEO
Daily Driver: L8F Electric Scooter

Our fearless leader has always had a thing for the future. With her background in technology, you might see how she chose to focus her efforts on the rapidly changing landscape of urban transportation. We've all had our breaking points with traffic… but Rose decided to really do something about it.
As an entrepreneur, Rose wanted to be at the forefront of new ideas, so developing and launching Scooterboard was the perfect way to show the world how reimagining and combining multiple ideas can result in something totally new.
As a voice in the industry, Rose's vision reaches beyond the success of our own business; she wants to be a transformative influence in the way we imagine and create our future lifestyle.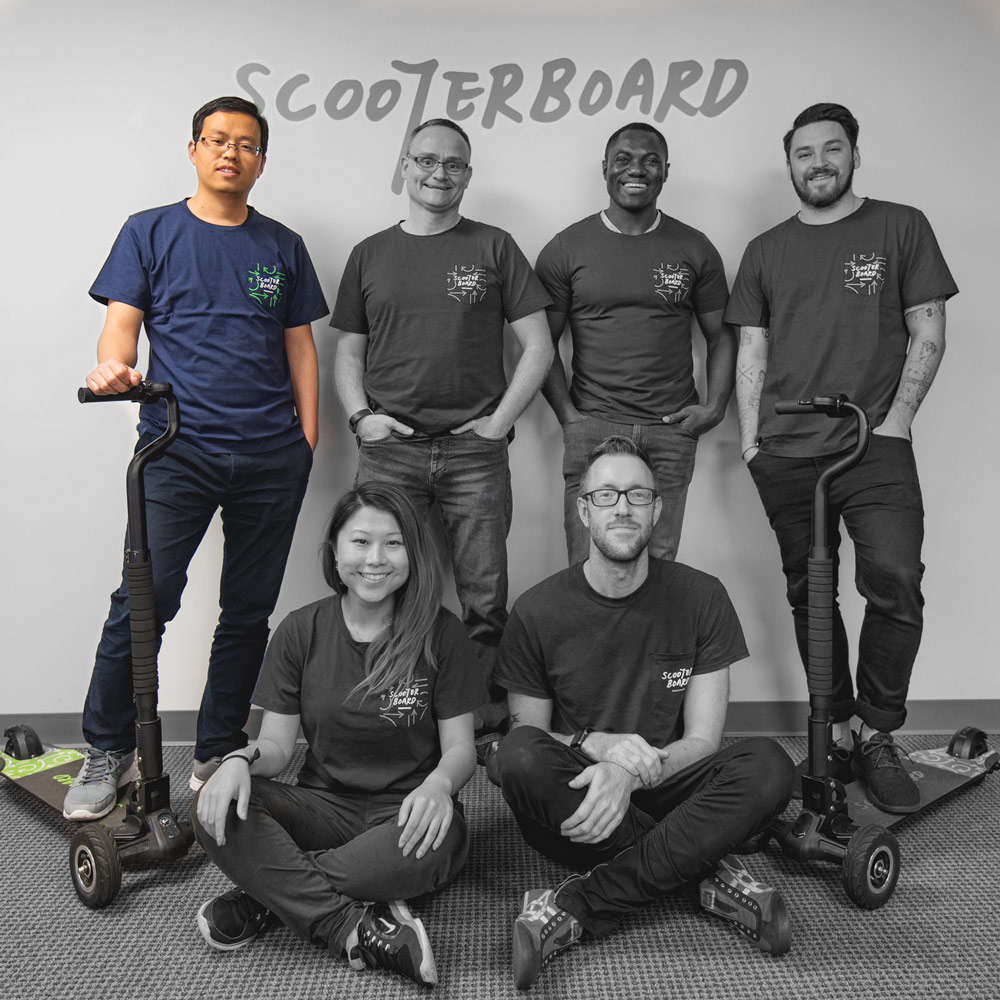 COO
Daily Driver: Scooterboard

Coming from extensive experience in manufacturing and having formed 2 previous companies in this industry, Bob has been instrumental in all things logistics and a key link between our team and the InMotion factory in Shenzhen.
One of Bob's favorite devices he's helped produce is the Scooterboard, and you should see him ride it! There is a special technique needed to get the most out of carving, and this man has got it nailed down to a science.
We all have our reasons for being drawn to this industry, and for Bob, it has everything to do with his fascination of blending portable technology with the human form. He believes there is something powerful and incredibly satisfying about the freedom one feels when moving about town with little restriction. We agree!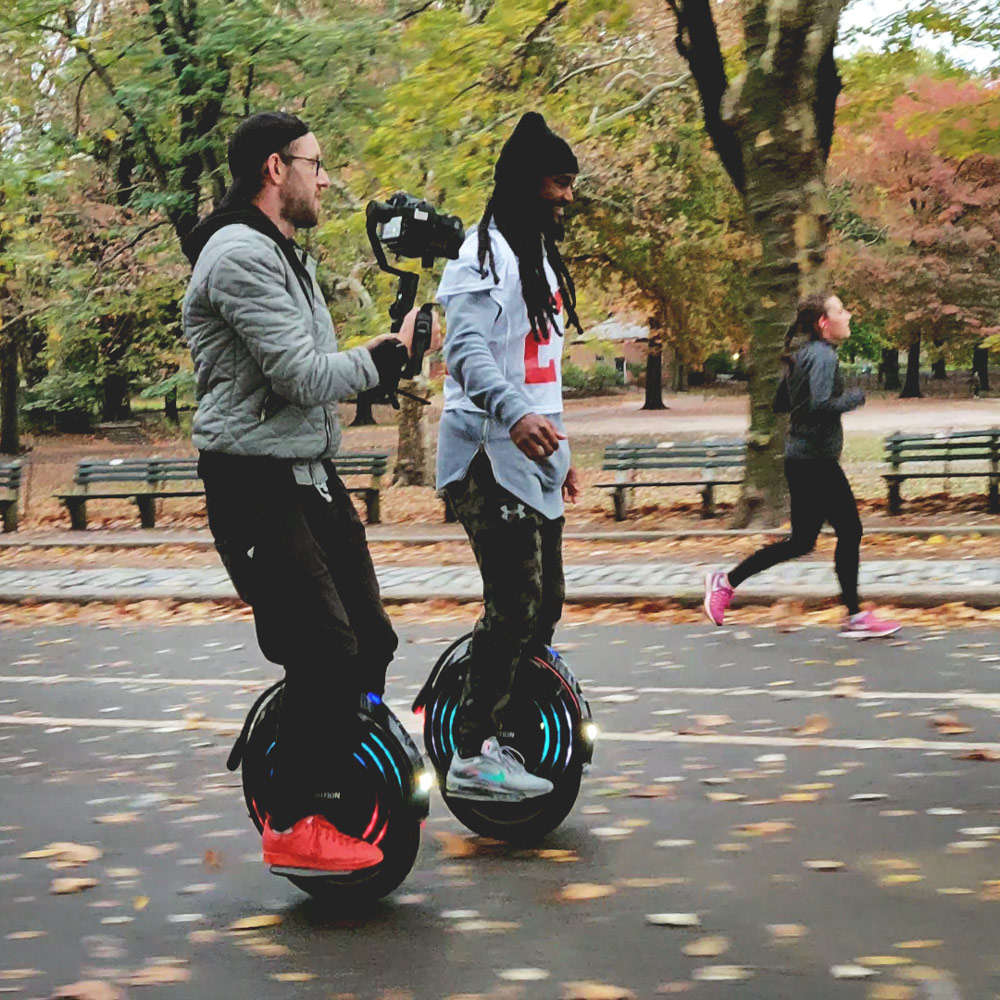 Experience Director
Daily Driver: V10F Electric Unicycle

Jeffrey is a self-proclaimed electric-unicycle-obsessed freak. These days you'll find him cruising San Diego's downtown, Bankers Hill, and Hillcrest neighborhoods when he's away from the office, but his journey into the world of self-balancing transit began in Seattle, WA when he saw his first Solowheel traversing down a steep street in 2014. He didn't know it at the time, but that moment would change his life forever.
His obsession turned into a profession in 2016 when he teamed up with Solowheel's inventor, Shane Chen, and ambassador "Barefoot" Ted McDonald to open up the first dedicated Solowheel storefront: Solowheel Seattle. Working as General Manager, Jeffrey trained hundreds of brand new riders and helped foster the growth of a whole community of riders in the city.
Today in his role with InMotion USA, Jeffrey uses a blend of his creative and technical backgrounds when working on marketing projects, building our website, and photographing our products in action.
You may have even seen him on TV rocking an electric unicycle as he's been on a few episodes of NBC & FUSE network shows profiling our company as well as an AT&T commercial featuring him riding the V8.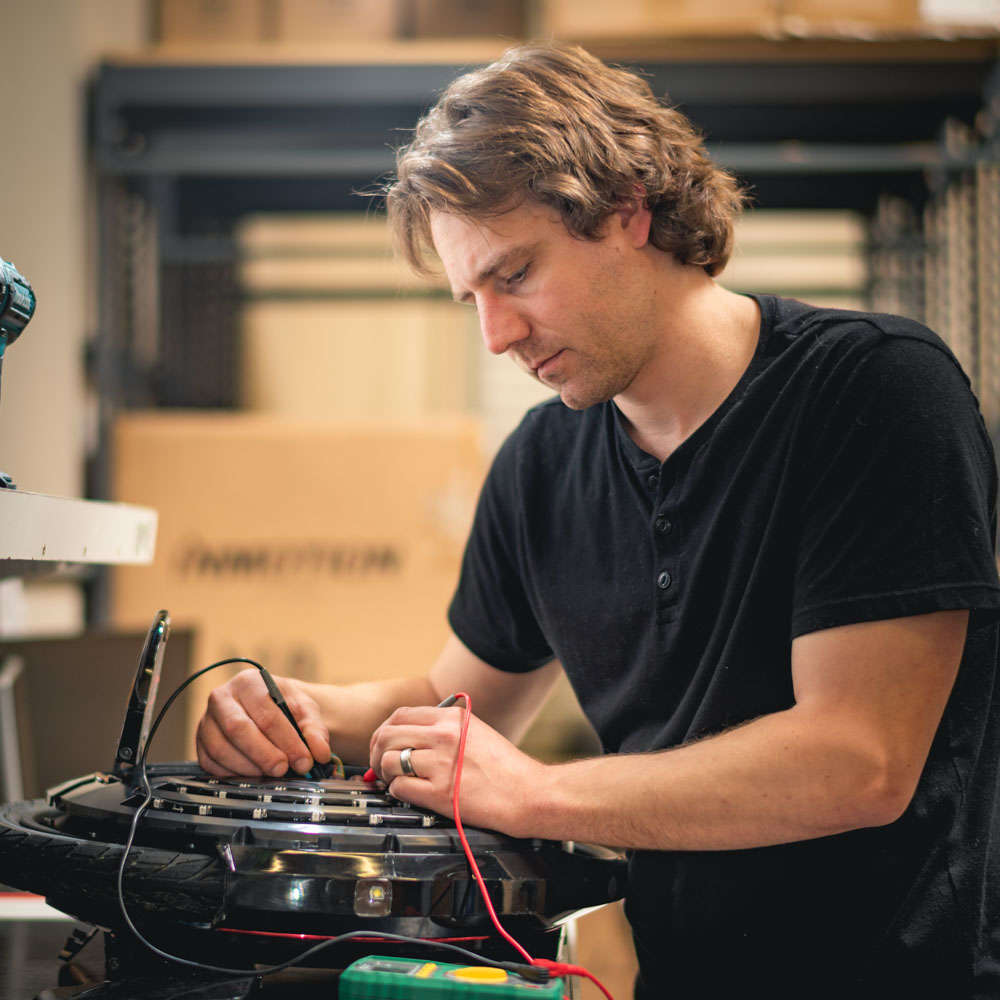 Operations
Daily Driver: V8 Electric Unicycle

Joey doesn't just ride electric unicycles; he builds them.
With his background in electrical engineering, Joey started his own business taking in totalled motorcycles and bringing them back to life. This was only natural, considering he grew up motorbiking throughout his younger teen years. In fact, he still owns his first bike that he bought when he was 15.


It turns out two wheels were just too many for Joey. After spotting his first electric unicycle in the wild, like Jeffrey, he became a superfan. What came next is not surprising in the least: Joey started drafting and prototyping his own designs.
Today you can find this proud new father in what he considers to be his ultimate man cave: our new warehouse & workshop.